Welcome to the website of the North Central Lieutenancy!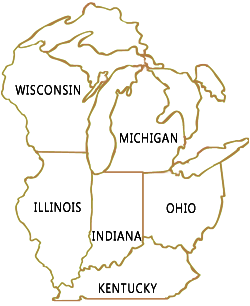 Welcome to the website of the North Central USA Lieutenancy of the Equestrian Order of the Holy Sepulchre of Jerusalem. The geographical area covered by the North Central Lieutenancy is shown in the image to the right — it includes the States of Kentucky, Illinois, Indiana, Michigan, Ohio, and Wisconsin. If you are looking for information about the Order's activities elsewhere in the United States, links to a map showing the territories covered by and to the websites of other US Lieutenancies can be found on the dropdown 'Contacts & Links' menu above, and general information about the Order can be found on www.holysepulchre.net, a site that we also manage.
Members' Area Problems
The Members' Area should now be accessible again. Please notify the Webmaster immediately if you have any problems browsing to it.
The Order's Latest Newsletter
The latest (July, 2016) edition of the Order's Newsletter is now available. Previous editions of the Newsletter and of the Order's Annual Reports (Annales) are also available from our Order News Page.
Education Pages
We have added video recordings of two of the presentations from the Columbus Investiture to those available from the Education Page, and we have updated the presentation software used to display the videos that are available from there and added options to display high definition versions (if your internet connection is fast enough), and/or to download the video files for local viewing.
2017 Pilgrimage
A detailed itinerary and booking form are now available for the Lieutenancy's next Pilgrimage to the Holy Land, which will take place from March 1 through 12, 2017. More information about our Pilgrimages can be found on our Pilgrimage page.
.
2016 Investiture
Preparations for the 2016 Investiture in Oak Brook, IL, are well under way. Please see the Investiture website for further information about the 2016 Investiture, and to download a Registration Form. A small selection of images from Columbus can now also be viewed in our Photo Gallery, and links to videos of the talks from the Sunday morning can be found on our Education Page.
Members' Area
The Members' Area is available for Registration and browsing. You will normally need to be a Member of the North Central Lieutenancy to access this area.
Other Notices
Please take some time to explore the site, and let the Webmaster know about any links which take you to an error page or to somewhere other than you expect, any factual, grammatical, or spelling errors you spot on the site, and/or any other problems you may have browsing it.
Particularly if you are a Member of the Order, please also let the Webmaster have any suggestions for further changes in the contents, appearance or structure of the site which you think would make it more attractive and/or more useful to you or to the browsing public.